protect & care for your summer hair
Picture it: summer in fabulous Indiana. It's hot and the sun is shining down on all the little peeps frolicking at the pool or jogging along the Pennsy trail with their chocolate labs. Summer is here to stay and you're soaking up all the rays you can. Life is good.
But when you get home after a long day of warm-weather antics, you look in the mirror and see your beautiful new summer ombre hair color looks washed out and dull. You scream at your reflection and then you pick up the phone and call Geneva Hair Studio (#2 on your speed dial I'm sure) and make an emergency appointment to revive your strands.
Don't let this be you! I have for you,
because I am sooo kind,
a way to avoid this heartache.
Thanks to Davines' Glorifying line (our super awesome Italian hair color/care line), which provides UV protection, fights free radicals and oxidation, and moisturizes, there is a solution to your summertime blues:
Add

Glorifying Elixir

($20) to your next color service. It's a super powered serum that when mixed in with your color, helps reduce color fading and is packed with antioxidants.

Upgrade your shampoo to the

Glorifying Shimmering Shampoo

($5). Polyphenols protect from UV rays and wheat proteins add a protective barrier to the hair.

Seal in color with

Glorifying Color Locking

post color mousse ($15).This is a great product for anyone (even us pale, sun phobic people) who wants to increase the longevity of their color.

Hydrate and block free radicals with the

Glorifying Anti-Age Shimmering Pak

($15). Your sun dried tresses will thank you.

Glorifying Color Protective Leave-In

($5) will add moisture and protection. This lightweight conditioner blocks solar radiation and leaves hair silky and soft.

Add high shine and UV protection with

Glorifying Shimmering Silkening Serum

($10). It only takes a couple drops to have sassy, glossy 'do.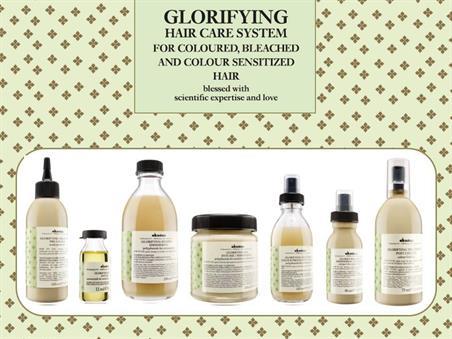 So when it comes to sun protection, we've got you covered! Don't forget to do your part and wear a hat or scarf for added protection when outdoors and ALWAYS wear sunscreen to protect your biggest organ: your skin!
"But Holly!" you say, "After a day at the pool my hair feels like straw and I can't even get a comb through it!" Well, my friend, have I got a product for you! Davines' Naturaltech line has a whole family devoted to detoxifying your hair!
Detoxifying Mud

($30) is this amazing clay mask for your hair that actually sucks out all the impurities such as chlorine from your hair and leaves your hair manageable and healthy. Ge this treatment as often as needed after prolonged chlorine exposure.
All of these great products will keep you stress free and your hair summer ready are available in salon and can be customized for your specific needs.
Just remember: protect your hair!